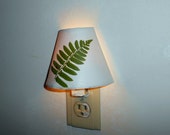 My night light series continues with the very popular Christmas Fern glued onto abaca hand made paper.
The effect is impressive at night. It casts a warm light for walking down the hall or in any dark spot in your abode.
The light shines through the paper to show the silhoutte of the Christmas Fern.
I attached the leaf with thick PVA glue to ensure the leaf wil...
Click Here to Visit My Etsy Shop!