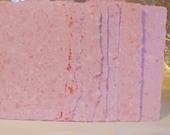 Hand Made Paper Scrapbooking Pretty Pink Color is my collection of pretty pink color with a rough texture. These recycled papers show inclusions of office paper and chunks of pure color in the pulp. My papers are perfect for your spring scrapbooking needs.
Irregularities are a feature of the hand papermaking process because no two pieces of paper catch the fibers in the same manner.
...
Click Here to Visit My Etsy Shop!