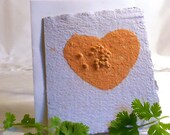 My Hand Made Recycled School Paper Single Cilantro Plantable Card is truly plantable!! Can you see the seeds bursting out of the paper??!! These are fat round tan seeds.
Making paper cards and recycling school paper is even better with colorful hearts and bumpy earth ready seeds to send!
The small bumps under the orange heart are cilantro seeds.
Do you love recycled pape...
Click Here to Visit My Etsy Shop!