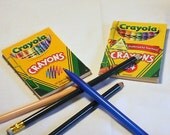 Who remembers these boxes filled with brand new crayons? Oh the pleasures of the new unbroken crayons!
Well, since the crayons are gone, these boxes are repurposed as child friendly journals which are
perfect for small hands.
Golden paper fills the inside while the Japanese stab binding method holds all the papers together.
I can make more of these if you provide the boxes. Any kind any size. Message me and we will create these for your children's birthday party, stocking stuffers or just because!!
Click Here to Visit My Etsy Shop!