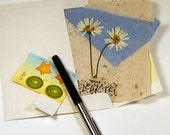 Five on The Fifth--That is five fresh daisy cards on the Fifth of August. What could be finer?..... being in Carolina in the morning? HAHA
Five Hand Made Paper White Daisy Floral Cards are Hand Stamped with Happy Birthday, With Sympathy, Thank You, Get Well Soon, and Celebrate.
The five white daisy flower card set has different greetings on each card.
I hand stamped- With Sympathy, Happy Birthday, Get Well Soon, Thank You and Celebrate on one of the cards in the set. Look at the photos to see how beautiful they are with ...
Click Here to Visit My Etsy Shop!