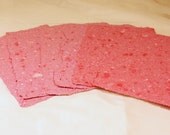 Easter is just around the corner. Be prepared to embellish your family scrapbook with these hand made papers from recycled office scrap.
Hand Made Paper Scrapbooking Easter Colors is my collection of deep pastel pink colors strawberry red. These recycled papers show inclusions of office paper and chunks of pure color in the pulp. These papers are perfect for your spring scrapbooking needs.
Irregularities are a feature of the hand papermaking process because no two pieces of paper catch the fibers in the same manner.
...
Click Here to Visit My Etsy Shop!