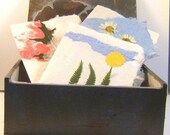 A Dramatic Black Box 'O' Stationery is filled with six exclusive handmade paper cards. The hand made paper cards are packaged in this one of a kind, upcycled, trendy cigar box!!
Making this Paper a Wow gift!
You may send 6 friends a different card for a different occasion and keep the box for yourself.
The handmade paper cards are 2 daisy cards, one yellow rock...
Click Here to Visit My Etsy Shop!