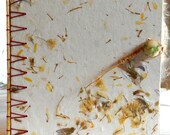 I learned the steps to make this hard bound journal in a workshop and covered the board with my hand made paper which includes spring wildflower petal mix.
The joy of this binding is that the book opens flat for your creative impulses!
The spine is accented with a gold paper which pulls highlights out of the front and back covers.
The red waxed linen brings the subtle...
Click Here to Visit My Etsy Shop!