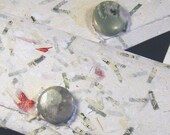 Making paper with bright red sparkly paper and green money shreds in the pulp combines for a unique gift card or business card holder.
Christmas, Birthdays, Mother's Day and Father's Day are perfect occassions to use this special gift card holder!
These handmade paper gift card holders are unique, one of a kind holders.
When you give this with a gift card enclo...
Click Here to Visit My Etsy Shop!