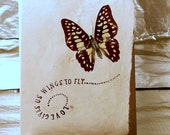 This vintage butterfly was collected by my bestfriend's mother over 50 years ago. The vivid colors of the butterfly have remained in excellent condition.
Hand stamped on hand made paper, this card will fly away with love to your mom. This card is also great for an anniversary, wedding or birthday.
The words read "Love gives us wings to fly....."
A very good friend gave me a collection of butterflies which her mother had collected over 50 years ago when it was not thought of as harmful to collect insect specimens. Therefore these...
Click Here to Visit My Etsy Shop!