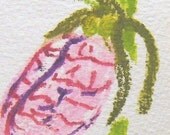 The majik of paint on paper shows the lovely and rare Pink Lady's Slipper flower of the Blue Ridge Mountains. The watercolor painting is attached to a hand made paper card.
Use this card for weddings, birthdays, congratulations, and anniversary greetings.
Measuring 5 3/4" X 8 1/2", the card is formed with beaten abaca fibers and recycled brown paper bag into which liquid s...
Click Here to Visit My Etsy Shop!