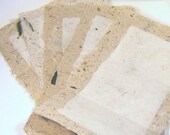 Handmade Paper Majik is pleased to offer exclusive Seeds and Ferns stationery for your longer messages.
Measuring 9 3/4" X 6", each sheet is formed by 2 pieces of handmade paper pressed together. The biggest sheet has mixed seeds, recycled brown bags and real fern pieces.
As I pull a sheet of paper the amount of fern pieces varies.
Next a white rectangle is ...
Click Here to Visit My Etsy Shop!