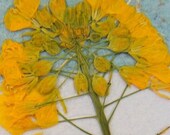 This set of five handmade paper wildflower cards have Yellow Rockcress Flowers pressed on the front with nature's wasp hand made paper to hold each flower in place.
These handmade notecards are perfect for mothers, friends, weddings, and thank you notes.
The handmade paper is made from abaca fibers which are beaten into pulp with water and the flower, Common Smooth Rockcress (Arabi...
Click Here to Visit My Etsy Shop!