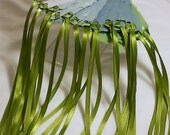 Making Paper since 1990, I made 15 green to aqua hangtags from handmade paper with flecks of blue. These smooth tags have a generous green ribbon attached for any of your gift needs. You will receive this exact listing with the different numbers of colored tags.
Each tag is individually made by dipping a special screen into paper pulp. This pulp has asymmetrical flecks in the pulp.The tags are color...
Click Here to Visit My Etsy Shop!