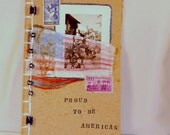 My Handmade Paper Journal Cover with Vintage Photo Of Couple and Vintage Patriotic Stamps is created with the Patriotic spirit of America. Do you remember those days? Do you know someone who would appreciate these vintage things?
This is a perfect gift for the Fourth of July! Order yours today! Use coupon code journal lover for 10% off this order.
A Vintage photograph adorns the handmade p...
Click Here to Visit My Etsy Shop!