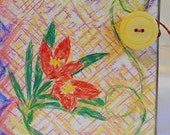 My Recycled Coptic Journal is ideal for the student headed back to school. Don't Delay, Buy today!
My hardbound journal has a colorful textured surface with a hand drawn Jamacan Magnolia bloom on the front cover. The back has a bright red bud. I used Prismacolor pencils for the drawing and my favorite Crayola crayons to create the cheerful background.
Each signature is wrapped with brown bag paper which was around my school's paper towels. I saved these papers from the landfill.
...
Click Here to Visit My Etsy Shop!