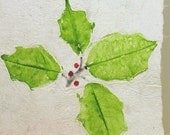 Hand Painted Holly Leaves on Hand Made Paper show the majik of paint on paper!!
These cards were first created with real holly leaves, however when I took them out of the drying press, the leaves were BROWN and UGLY. I couldn't waste the handmade paper so I cut the leaves off and painted the impression and here is the result--beautiful green holly leaves and red berries.
I watercolo...
Click Here to Visit My Etsy Shop!