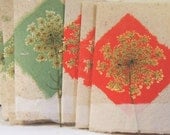 Delicate, Lacey Floral Red and Green Paper Cards are hand made paper cards for weddings, anniversaries, birthdays and congratulations. Also the bright red and grass green colors are perfect for Christmas events!!
These Queen Anne's Lace flowers were picked by me and placed and dried on the paper card.
Measuring 5 3/4" X 8 1/2", each card is formed with beaten abaca fibers,...
Click Here to Visit My Etsy Shop!